WILL HCPS LEADERS KEEP THEIR WORD?
April 18, 2019
District administrators are now saying exactly what they said June 20, 2017...
Deputy Superintendent of Operations, Chris Farkas, sent a letter today to HCPS Custodial Staff letting them know no decisions have been made and that the district is simply RESTATING what was said in the summer of 2017. While we are certainly glad district leaders listened to our members and the public about centralizing Custodial Operations by AGAIN SAYING they will form a panel and pilot centralization in two district areas; we still remain highly concerned as the district also reiterated their commitment to completing the RFP process.
Do not be misled: NOTHING has changed other than a RESTATEMENT of what was said June 2017!
After the 2016 Gibson report provided clear COMPARISONS OF COST SAVINGS, district leaders reported to the School Board and the public the following on June 20, 2017:
Click here to review Pg. 103 of the Hillsborough County Public Schools Fiscal Review. June 20, 2017. School District Team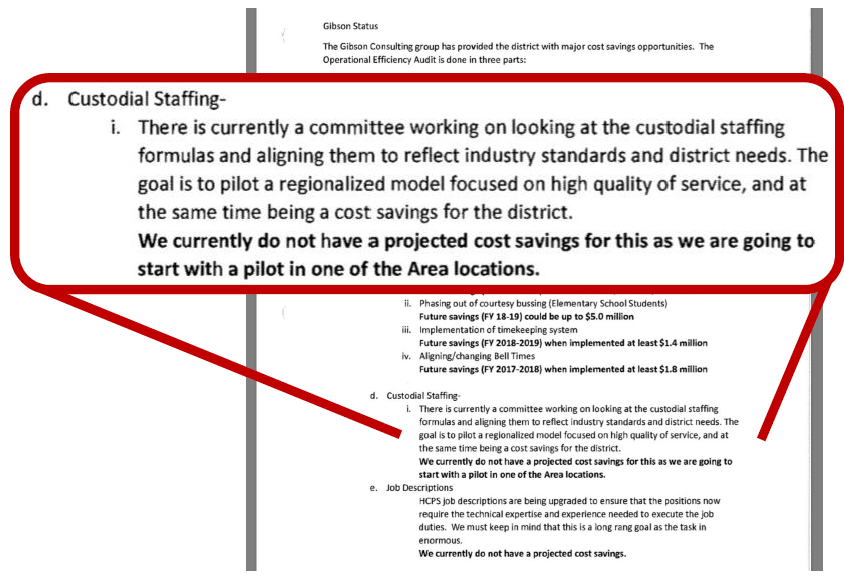 ---
What have HCPS leaders been doing since June 20, 2017?
NOTHING! Here is our report on the numbers:
---
The numbers that were recently reported to the public are confusing to say the least, and even if this RFP is meant to "tell us what the option of subcontracting or privatizing services would look like", the basis for comparison that will be used to judge if HCPS should outsource custodial services proves a waste to nearly $1 Million spent on a clear plan for cost savings ALREADY provided. The problem is THE DISTRICT NEVER TOOK ACTION!
On March 8, 2019 a Tampa Bay Times article reported to the public that the cost of custodial operations salaries alone is reported to be $38 million for more than 1500 workers at an average salary of $24,000. Additionally, the article originally reported that "The school district saved $2 million this year by reducing that work force by over 200 positions, down to 1500 from 1730 following the Gibson Consulting Group efficiency study." The article has since been updated to now report: "Hillsborough already saved $2 Million this year by paring down its custodial staff, which used to employ 1730. Those changes followed an efficiency study in 2016 by the Gibson Consulting Group."
Here is what we know about the numbers:
Custodial services is actually budgeted for 1753 custodial employees as of March 2019. The budgeted-for positions are as follows:
251 Head custodians
1377 Custodians
125 Substitute Custodians
We know out of the 1377 budgeted-for custodians as of April 2019 our data indicates that the HSEF bargaining unit ALONE has 1301 FTE employees with the following 48 vacancies currently advertised on the HCPS website: Thirty-five (35) Custodians, ten (10) 4-hour custodians, and three (3) Crew Leaders.
As of March 2019 out of the 251 budgeted-for head custodian positions there were 236 assigned employees leaving 15 vacancies. Some vacancies have since been filled, and as of April 12, 2019 there are only two (2) head custodian positions advertised on HCPS website.
As of March 2019 out of the 125 substitute custodians there were 117 assigned substitutes with 8 vacancies. It's important to note the substitute pool changes frequently as subs are hired on as custodians.
Custodial numbers do fluctuate month to month, but the total assigned employees is over 1650 out of the 1753 budgeted-for positions as of March 2019 with 50 advertised vacancies. If payroll is costing $38 Million currently, these numbers indicate employees are averaging an income less than $23,000. These numbers would simply indicate $2.3 Million in vacancy savings for the roughly 100 vacancies.
To ensure the district is able to meet its short and long term goals, spending must remain within the appropriated budget. Since vacancy savings are temporary these savings cannot really be used to fund new positions or permanent increases, or to offset overages in supply and general expense anywhere else in the budget until budgeted-for positions are actually swept. If you have 1753 budgeted-for positions, then you can't claim real savings simply by not filling positions.
Most importantly, the district has reported a reduction in the workforce following the 2016 Gibson report, which showed that TOTAL custodial Full-time Equivalent (FTE) employees in 2014-15 was 1412.7, not 1730. With 1650 employees as of March 2019, this would indicate an increase of more than 200 employees and spending overall, again proving administration has not managed or ATTEMPTED centralization and the adjustment of FTE staffing numbers. If HCPS does not include subs in their salary calculations, then the same data would simply indicate that over the past seven years FTE has remained THE SAME, at an average of 1307 for regular custodians and 235 head custodians since 2012-13. Again, this proves NO adjustments have happened as a result of the Gibson Study or the pilot HCPS leaders said was started in 2017.
Furthermore, at the April 2, 2019 regular School Board meeting, a Board Member suggested HCPS was paying a "premium" for custodial operations, and later indicated a cost to the tune of $90 Million. In examining the latest HCPS Annual Financial Report (AFR) submitted to FLDOE, expenses in function 7900 (which is "Operation of Plant") is where most custodial expenses are coded, along with a number of other types of expenses (such as utilities). On page 3, of the 2017-18 AFR you can see that the total spent in Operation of Plant is $117.8M. However, over $31M of that (see page 4) is for "Energy Services," i.e., utilities, leaving only about $86M leftover for everything else. The total cost of all salaries and benefits in 7900 is only about $59M (pg. 3). Most of this will surely be for custodian services, but not necessarily all. A more thorough accounting of expenditures in function 7900 will give a more precise figure for all of this. Any assertion that custodial operations cost $90M or more is false.
As discussed previously, there are budgeting practices that must be followed when budgeting for employee salary & benefits. Interestingly, the latest HCPS Summary budget indicates a $15.5 Million INCREASE to appropriations for salary AND benefits in function 7900 (Operation of Plant) as of December 2018. 66% of the total salary and benefits appropriations increases being reported are for Operations of Plant alone. One should not be misled to believe that all of these salary and benefits increases are for custodians alone. As stated above most expenses in function 7900 will surely be for custodian services, but not necessarily all. No other function reports such a dramatic increase in salary & benefit appropriations and we are currently researching this increase.
YEAR

7900 SALARIES

7900 BENEFITS

TOTALS

2014-2015 AFR

$37,757,228.81

$14,522,456.12

$52,279,684.93

2015-2016 AFR

$38,449,590.66

$15,405,641.83

$53,855,232.49

2016-2017 AFR

$41,227,719.69

$17,820,556.64

$59,048,276.33

2017-2018 AFR

$40,805,837.43

$18,286,106.44

$59,091,943.87

2018-2019 SUMMARY BUDGET

Appropriated
$54,312,605.83

Appropriated
$20,252,379.01

Appropriated
$74,564,984.84
HCPS administrators have made clear their intent with a costly and time consuming RFP, which does not meet HCPS policy. Additionally, leaders have provided poor communications to employees and the public since March 8, 2019, have shown lack of understanding of square footage targets, staffing & budget numbers, and have not shared publicly any proof that the centralization pilot that was SUPPOSEDLY implemented didn't work or provide the cost savings desired. An almost more alarming fact is that district administration is open to full departure from the cost saving practices of centralization by allowing joint offers to be made and having no set number of awardees for the outsourcing of custodial operations.
This shows negligence on the part of the district and should prove to Board Members that THERE IS NO JUSTIFICATION FOR AN RFP FOR CUSTODIAL OPERATIONS TO EVEN EXIST. If privatization was a good option then why didn't the Gibson Report recommend it? Even more importantly, why did district leaders waste nearly $1 Million on a consultant for advice gained in 2016 to not even try until today? They should have been doing the important work of managing Custodial Operations in the most cost effective way all along!
CONTACT THE SCHOOL BOARD OF HILLSBOROUGH COUNTY TODAY
Steve Cona (District 1) (813) 272-4052 Schools Represented
Stacy Hahn (District 2) (813) 272-4045 Schools Represented
Cindy Stuart (District 3) (813) 272-4052 Schools Represented
Melissa Snively VICE CHAIR (District 4) (813) 272-4618 Schools Represented
Tamara Shamburger CHAIR (District 5) (813) 272-4053 Schools Represented
Karen Perez (District 6) (813) 272-4045 District Wide Seat
Lynn Gray (District 7) (813) 272-4618 District Wide Seat
Download:

A LOOK AT THE NUMBERS Espanol.pdf