Notary Service Available for HSEF Members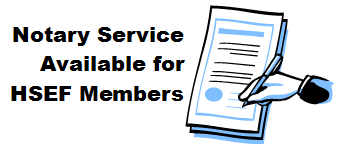 Contact HSEF to make an appointment!
Notary Public service are available by appointment for the benefit of HSEF members free of charge.
The following guidelines must be followed:
Notary Service is available by appointment during the HSEF office hours of operation.
It is recommended that members call the HSEF office prior to their visit to ensure that a Notary is available at that time and to make an appointment. The HSEF office can be reached by calling 813-231-2030.
Members must be present for Notary service. The member must be a Florida resident AND be an HSEF member. Valid State of Florida photo identification is required of any member seeking Notary Service.
The HSEF office will not provide witnesses for documents that require this signature. Witnesses may not be solicited from HSEF staff or other visitors to the HSEF office. Members must provide their own witness. In order to serve as a witness, the witness must personally know the person whose document is being notarized and must be in possession of valid photo identification.
Certain public documents cannot be copied and notarized. Examples of these are birth certificates, death certificates and marriage certificates.